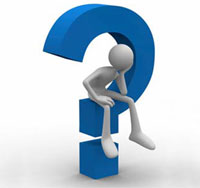 Why do you sell Real Estate?  Is it because you like helping people, do you love the money (when its good) or is it all about the flexibility of your time?
In order to be successful in ANY part of life, including your career, you'll need to have a clear purpose, a compelling reason that drives you.
Think about it for a little while, and dig a little deeper than you normally do.  Figure out what your "why" really is – not just what you tell people.  In an age when Realtors are deemed almost as untrustworthy as an attorney, you'll need to feel your passion in order to project that out to your clients and prospective clients.
For me, I've always loved to create things.  I've always had HUGE ideas, and I've always tried to find a better way to do things.  I never did well in the traditional work environment, as I have always questioned the systems, or lack thereof, that were forced upon me.  So for me, my "why" is about freedom.
I've also never been able to put my children on the back burner so that I could slave away for another person – one who didn't care if I missed any milestones in my children's lives.  That would make another "why" family.
And finally, if I may continue with the "F" theme, Fortune.  I make my own fortune.  Large or small, it's mine and I made it through my own blood, sweat and tears.  Never again will I work from sun up to sun down, barely seeing my husband or kids, working to pay someone else's mortgage.  Even on the days when I want to crawl back in bed and never read another email again, I am still truly grateful and truly happy.
So what is your why?  What drives you to keep plugging along day in and day out?  What makes you still want it even through the really tough times?  What is your purpose?